January 4, 2019
Special Offering #1

Oncidium Tsiku Marguerite
*Miniature in Bud*
This miniature will look cute as a button gracing your tabletop or sunny windowsill. Small growing plants produce branched stems of tiny delicately pink blooms that carry a lovely and soft fragrance. Flowers last for weeks under normal conditions. Perfect for beginners and a great choice for under light culture.
Plants prefer intermediate conditions with medium to bright indirect light and 65-85 degree temperatures. Roots are very fine so we suggest that you do not allow media to dry completely out, instead maintaining some moisture at all times.
We have plants available in 2.5" pots, that all have two or more spikes, and are in bud to bloom soon. Plants can be repotted into larger pots after flowering or next spring on new growth. Get yours before they are gone!
Very Limited
Special Offering #2

Brassostele Tarantula 'Sweet Orange'
*Ready to Bloom*
Compact growing plants with arching sprays of spidery orange and chocolate blooms. Very unusual and a collectors plant!
Considered an Oncidium intergeneric, this variety can tolerant warmer temperatures than many in this group (65-85 degrees) but the media should not be allowed to stay dry for long. Medium to bright light levels are best, but with good airflow over the foliage at all times.
We are offering just a few Ready to Bloom plants in 4" pots, that currently are in bud and bloom right now. VERY LIMITED
New Selections for a New Year!
Five New Additions to our Online Store, including New Sizes, New Hybrids
and Back-in-Stock Selections
Laelia rubescens (alba x aurea) x sib
This hard to find species is native to Mexico and down through Central America, usually in areas with warm, bright conditions. Plants have rounded, short and rather flat pseudobulbs with thick rounded foliage. Each fall after the summer growing period is over, tall bloom stems emerge to bloom usually by November. This form was made using both white and yellow parents. The results being flowers are a creamy off-white with black "eyes" in the center Mature plants can hold multiple stems each season, with dozens of flowers making quite an impressive sight.
Growing Suggestions: Recommended for warm growing conditions, meaning 65 degrees or warmer year round. Plants can tolerate short periods of cooler weather if kept dry. As plants mature, brighter light will be needed than seedlings currently receive but be cautious of causing leaf blushing or burn as plants won't recover easily. We usually hang larger plants high in the greenhouse above other crops and they flower well. Well draining media is a must to avoid rot. These are easily grown in hanging baskets or on mounts. We also have found that a bit of a dry winter rest is appreciated in cooler climates. Water just enough to keep roots and bulbs from shriveling.
We are offering these beauties in 3" mesh pots. After they outgrow these containers in the next year or two they can be slid right into larger baskets with little fuss. Plants are large expected to flower for the first time within the coming 12 months.
Return of a sell-out Carter and Holmes Original! Potinara Lynette and Alan is made by crossing the standard sized lavender Blc. Tribute with the miniature cool-growing species Sophronitis coccinea. The result is compact plants with stems of boldly colored blooms, bright scarlet-orange shading over round yellow segments. The lip is a dark blood red. Plants will be best cultivated in cool to intermediate conditions which will also bring out the best bloom coloring. Get yours while supplies last!
We are offering Blooming Size Plants in 3" pots. Plants are expected to flower for the first time within 6-12 months.
---
Lc. Floralia's Azul 'Sandra' AM/AOS x Cattleya amethystoglossa coerulea 'Blue Sky'
(We are showing a photo of what we expect flowers to appear like).
A new blue cattleya offering. The first parent is a free flower compact grower with oversized blooms. Lovely sweet fragrance. The species amethystoglossa will add a cluster-style bloom habit and hopefully some blue and purple petal freckles. These are showing lush green foliage with semi-bifoliate growth habit. Expected to mainly be winter blooms but there could be some surprises!
We have a new crop of plants established in 2.5" pots. Plants are expected to be flowering size in 2-3 years.
---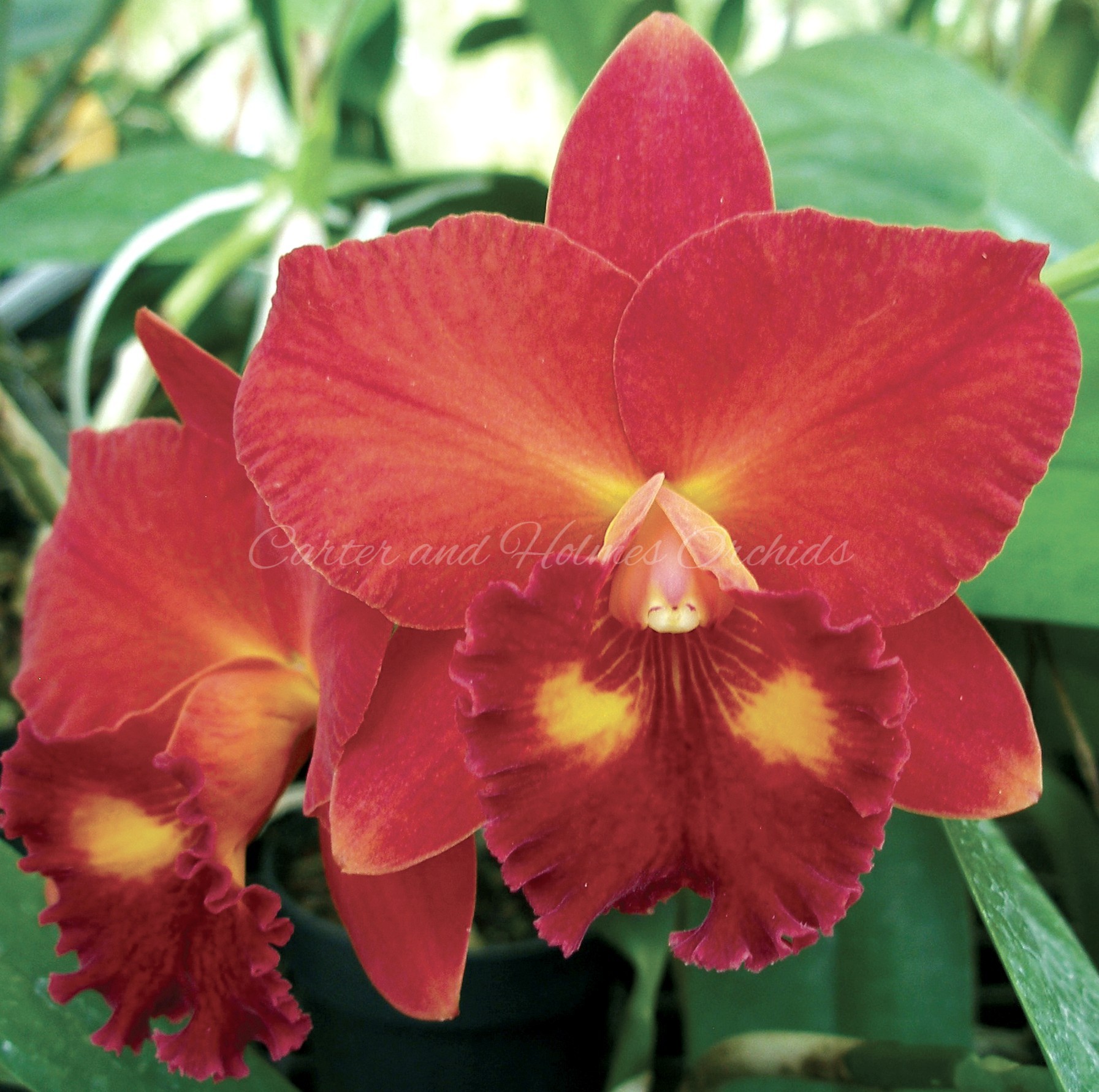 Pot. Newberry Apricot x Pot. Newberry Delight 'Mendenhall' AM/AOS
(Both parents are pictured)
This is our newest miniature to compact growing cattleya selection. This time we have combined our favorite red parent, Newberry Delight with Newberry Apricot. The latter is an interesting combination of Blc. George King x Soph. coccinea. We are expecting to see a range of red and orange blooms, with very round overlapping form. Plants will be compact growers around 10" tall when mature. We do suggest these for cool to intermediate conditions due to the recent Sophronitis influence.
We have Near Blooming Size plants in at least 2.5" pot size. These are expected to flower for the first time within 12-18 months.
---
Epidendrum nocturnum
We acquired our compact growing strain from Eucagenera, many years ago. These have been fast growers and easy bloomers. Plants grow in clumps with pale cream and tan blooms that are only fragrant in the evening and overnight hours. Great for warm climates and does well with mount or basket culture.
We have Blooming Size plants in 3" mesh baskets that are large enough to bud and flower at any time. As they mature, plants become free-flowering year round.
January Supply Sale
Some of our favorite Growing Essentials will be on Sale this month.
Stock up while supplies last!
Best Seller!
Urea Free 20-10-20
We suggest the balanced Urea Free 20-10-20 Fertilizer as a great year round, all-purpose fertilizer. The non-urea source of nitrogen is the best form for orchids and many other plants to readily absorb and use. Can be used on all orchid types and also some houseplants and tropical plants. Can easily be rotated with other fertilizers depending on the need.

View:

Urea Free 20-10-20 (1.25 lb)

$4.50 Sale Price
View:

Urea Free 20-10-20 (5 lb bag)

$12.75 Sale Price
---
Cal-Mag 15-5-15
Our growers recommend using Cal-Mag 15-5-15 Fertilizer on most orchids at least once every three months and we have noticed that Phalaenopsis and Lady Slippers appreciate this fertilizer on a more regular basis.
A truly comprehensive formulation with all of the macro and micro nutrients. Contains 4% calcium and 2% magnesium, which makes it an ideal choice for use with water that is low in those nutrients. Formulated with 80% nitrate nitrogen. Contains a Peat-Lite level of micro-nutrients.

View:

Cal-Mag 15-5-15 (1.25 lb)

$4.50

Sale Price


View:

Cal-Mag 15-5-15 (5 lb bag)

$12.75

Sale Price
---
Blossom Booster 10-30-20 is a Professional formula designed to produce more flowers and brighter colors on all indoor and outdoor plants. Feeds through both the roots and the leaves. This is the Original Blossom Booster with the proven 1:3:2 nutrient ratio– the quality is unmatched in the home gardener market. Trusted by many professional growers. Recommended for Orchids of all kinds especially Cymbidiums and Phalaenopsis when applied during the early and pre-spiking season..
PLUS All indoor and outdoor flowering plants like: African Violets, Streptocarpus Geraniums, Impatiens, Begonias and Marigolds. Great for vegetables and fruit.

---
Orchid Potting Mixes on Sale
As With Bulky or Large Items, Our Boxed Mixes are shipped Separately from Plant Orders at Actual Cost of Shipping.
Please contact us for an estimate if needed.
Cypress Blend
This media is made and boxed in-house using Cypress/Hardwood Blend and Spongerok.
Recommended for most orchids in 2.5" pots to 8" pots and many in larger containers too. Can also be used as a base mix with other ingredients such as charcoal, tree fern or sphagnum moss added.


View:

Cypress Mix Blend 1/4 cu ft box

$4.50 SALE PRICE
View:

C

ypress Mix Blend 1 cu ft box

$10.80 SALE PRICE
View:

Cypress Mix Blend 2 cu ft box

$18.00 SALE PRICE
---
Peat Mix
This media is made and boxed in-house. Peat Mix is used for Phalaenopsis orchids in up to 6" pots, also recommended for Jewel Orchids and young Cymbidiums. This media contains a Pro-Mix base with added SpongeRok to lighten and allow more airflow. This media is much more water retentive than our Cypress blend.
View:

Peat Mix 1/4 cu ft box

$5.85 SALE PRICE


View:

Peat Mix 1 cu ft box

$13.50 SALE PRICE


View:

Peat Mix 2 cu ft box

$22.50 SALE PRICE
---
ALSO AVAILABLE
Spongerock
Spongerock, also called Number 3 Grade Perlite, is suggested for use in most orchid potting medias. This material helps to keep the mix well drained in order to prevent rapid breakdown. Since Spongerock is inert, it does not decompose along with the organic components and yet still holds moisture for the plants.

View:

Spongerock 1/4 cu ft box $7.50
Winter Packing & Shipping 2018-2019

Beginning November 7th Carter and Holmes will be charging our Winter Packing Charge of $3.50 per plant shipment, instead of our regular $2.50 packing charge. We will be using Heat Packs as needed in order for plants to arrive safely, and when we do so we will charge an additional $0.95.
Even though a box may be headed for a warm weather destination, many of our boxes pass through hubs in colder locations.
Thank you!
Let Us Watch the Weather for You!
We check the weather en route every morning before shipping plant orders, and we guarantee safe delivery to any address where someone will be available to accept delivery. We can safely ship orchids in bud and bloom through temperatures of 32 degrees and above, and we can ship orchids not coming into bud or bloom through slightly lower temperatures when using heat packs.
JANUARY Promo Code is
STEVENWS
Promo Code valid from 1/1/19-1/31/19
Need Help Using Promo Codes? Look in our FAQ section.


https://carter-and-holmes.com/faq/
Can be used for a 10% discount when you place orders of any size for plants listed at our regular prices. Just type the code above into the box labeled for Discounts or Promo Codes, or enter it into the comments box during checkout. Each code is only good for its specified month.
Thank you for your continued patronage. Our family business has been here since 1947 because of you and customers like you who love orchids. We appreciate you!
We generally ship orders that customers place (unless a special date is requested) within 7 to 10 business days of receiving them or if not sooner. We ship via FedEx and Priority Mail.
We always email tracking information when we ship so customers will know when to expect delivery, and we guarantee safe delivery so long as someone is available at the shipping address to accept delivery.
Mac Holmes


Visit our website! www.carterandholmes.com
Contact us via email orchids@carterandholmes.com

803-276-0579
803-276-0588 (fax)
PO Box 668
629 Mendenhall Rd.
Newberry, SC 29108